Awesome Ocoee white water rafting and camping close to Atlanta & Chattanooga!
The Ocoee river is calling.
Will you answer?
Choose from a half day or full day of white water rafting on the famous Ocoee River! The Classic Middle Ocoee rafting trip is 5 miles of awesome rollercoaster action. The Full Ocoee rafting trip is 10 miles, with lunch, and starts with a bang on the 1996 Olympic white water course, then rolls on into the fantastic Middle Ocoee section. Continuous Class III and IV whitewater – let's go! For ages 12+. 
Ocoee Cabins & Campground
Come spend the night with us and relax while enjoying the great outdoors at our 30-acre wooded resort near the Ocoee River and Parksville Lake. Bring your tent or an RV and enjoy our campground, or reserve one of our bungalows or our large log cabin for groups. We've got you covered with affordable accommodations to enjoy an extended adventure stay for Ocoee rafting, hiking, and biking in nearby Cherokee National Forest.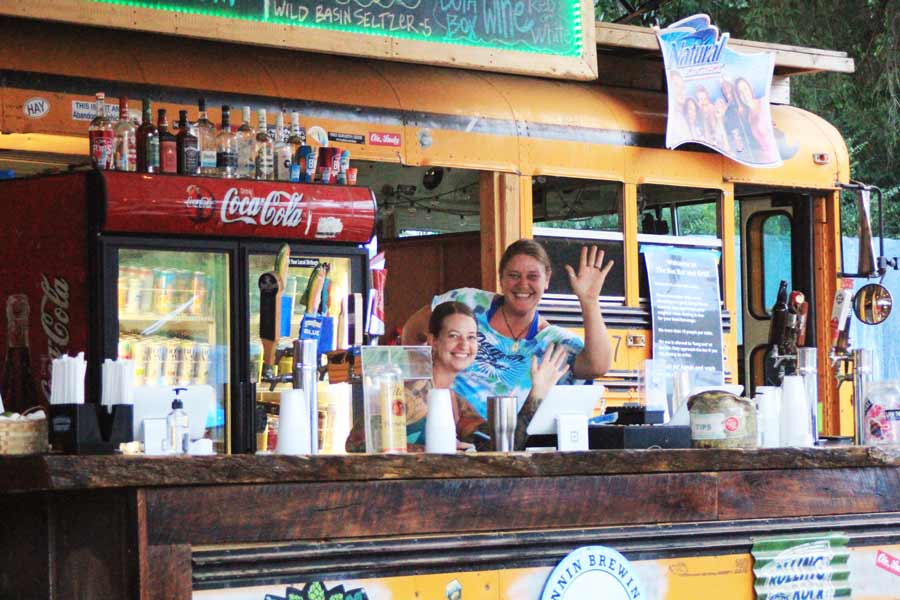 The Bus Bar & Grill + AU Café
Enjoy hearty American fare, local craft beer, signature Ocoee specialty cocktails, and nightly specials at our crazy fun Bus Bar & Grill, a favorite place to hang out after rafting the mighty Ocoee!  Also serving up breakfast fare at our AU Cafe.
Live Entertainment Events
We've been serving up live entertainment with great regional musicians and cool events for over a decade now. Adventures Unlimited is "the" place to be for connecting with friends and family after an awesome day on the Ocoee River or nearby trails. 
Boat Load of Fun Special!
Want your own private boat of 6 friends or family in the midst of a regular Ocoee rafting trip? All at a sweet, special price? You've got it with our popular Boatload of Fun special! Grab 5 of your best friends or favorite family members and check out rafting deals on the Middle Ocoee or Full Ocoee!
THE AU DIFFERENCE - FOR YOU!
We're the only Ocoee rafting company with a full resort campground, cafe, bar & grill, and live entertainment - all summer long!
We are located 15 miles east of Cleveland, TN and less than 50 miles from Chattanooga, TN and Murphy, NC. Only 2 hours from Atlanta, GA
We lead Ocoee white water rafting trips suitable for all skill levels, and ages 12+
All of our guides are trained and certified in basic First Aid and CPR and our Senior Staff have Paramedic or Wilderness First Responder Certifications
Each guide completes a comprehensive course in Whitewater Safety during Guide School
Great for group outings and team-building
Digital photo packages are available for every trip
Tent & RV Camping Available (reservations required, primitive sites, and full hookups)
Eateries On-Site – AU Café and The Bus Bar and Grill
Minutes from the Cherokee National Forest
Live Entertainment Events all summer long
Ocoee rafting is the perfect day trip from Atlanta or Chattanooga. Got more time? Stay with us and unwind and recharge in Ocoee, TN – a great destination for paddling, hiking, and mountain biking!
You Don't need experience to go (& love) Ocoee Rafting!
T-shirts, shorts, and shoes are required for each trip. Keep in mind that shoes must be secure so NO flip flops. We recommend bathing suits, nylon, or any other outdoor clothing that dries quickly. Dress for the weather as our trips run rain or shine. Wetsuits are available for rental. Each guest should bring a complete change of clothes and a dry pair of shoes for after the trip. Our changing rooms are fully equipped and even include hot showers.
Rafting check-in is 30 minutes prior to your trip. Adventures Unlimited operates on Eastern Time. If you are traveling from a DIFFERENT time zone, please make that adjustment to your travel plans. Check-in for cabins and RV sites is anytime after 2:00 pm and check-out is by 11:00 am.
Unplug and relax in Mother Nature and find yourself taking a break from all the hustle and bustle of everyday life. The WiFi here is weak, but the human connection is strong. We are available to answer all questions to help you prepare for your next big adventure.
Always a great experience. I have been whitewater rafting with Adventures Unlimited for the past 5 years and the friendliness and professionalism of the team here is unmatched!
Thank you AU and Daniel (D-Money) Smith for a FANTASTIC day on the Ocoee! Great memory with my family! Your crew is well organized and fun loving which makes for a wonderful time! We will be back!
The cabin we stayed at was perfect for my Buddy and I. We enjoyed our stay and plan to stay again. Staff were super helpful and friendly.
Memberships & Associations